BREAKING BUBBLES
AND
AWAKENDING ONENESS
GARY KENDALL
Cover Art and Illustrations by Ingrid Maria Ericsson
In the tradition of Amorah Quan Yin, a fresh and moving new perspective on your healing and spiritual evolution!  At the heart of this book are stories about the healings of people who have found a way to break through the persistent obstacles in their lives and to step into a different relationship with their identity and their spiritual life. This book inspires the kind of insights and experiences that will take you to a place of greater security and optimism on your spiritual path.
Oneness is the single most profound insight that you can ever come to—the thing that can most profoundly transform your sense of yourself and the world around you. You are Oneness, but it is as if your consciousness were held within a bubble, and this bubble keeps you focused in a pattern of separateness that has become the limited reality you experience. Bubbles are the universal containers of separation, and the limiting effect of being within bubbles hides their very existence from us.
Breaking your bubbles illuminates the landscape ahead of you in a new way, making visible the potential paths you have not yet imagined. By breaking your limiting bubbles, you discover yourself in a place of freedom from what used to be your compulsions and your fears—and ultimately you experience your awakening in the New Earth.
---
The book is available now. More information and order from Dolphin Star Temple, from Amazon US , from Amazon UK , or Adlibris.
We Are The Future Earth: Reflections of a healer's pilgrimage to Argentina's spiritual heartland
By Gary Kendall with Ulla Anderén
Cover art by Ruby Barnes
Now available at Amazon in paperback and for Kindle: www.amazon.com
Also available in Stockholm at Vattumannen book store, and in the US at Shaman's Market
The wondrous and mystical geography of northwestern Argentina is the setting for this adventurous tale of encounters with the deep spiritual realms of the earth. And in the wilderness of the Quebrada de las Conchas even the old spirits of the primordial earth want to talk about the future! They have messages for us about humanity's unfulfilled destiny on the earth!
Gary and his wife Ulla are both highly trained healers who are drawn repeatedly to this unspoiled region of the world, to walk the land, and to receive teachings of how we each have a part in creating the future earth now. Old idols are swept away as a deeper and surprising understanding opens of what it means to step into a fully awakened relationship with the earth and to join with the consciousness of all its beings.
The central story of this book traces Gary's and Ulla's repeated journeys to the Salta region of northwestern Argentina. As they travel from one powerful energetic site to another, the ancient spirits share revelations about humanity's history and future evolution. Interwoven within this story are the personal experiences of the author as an energetic healer, his years in training and his active practice. The role of personal healing is intertwined with humanity's path of evolution, how we all liberate our true selves to be the creators of the next world. The ultimate goal here is to arrive at a clear and practical vision of how we create the future earth.
This book describes:

Adventurous journeys into unspoiled areas of the Salta region of Argentina.
Unprecedented descriptions of a healer's personal experience of the healing process.
The early spiritual history of earth predating the arrival of humans.
Simple and direct explanations of spiritual and psychic phenomena like the dimensional planes.
The importance of the elemental kingdoms to humanity's future.
Easy to follow descriptions of spiritual practices that can aid in your personal evolution, such as healing with crystalline energy and moving into unity consciousness.
An inspiring and practical vision of how we each can begin now to transform humanity's relationship with the earth.
Books by Ulla Anderen
All books are in Swedish!
Profetia – vägen hem
Prophecy: Journey Home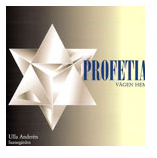 For more information about this book go to www.divineoneness.se
Att gå genom dörren till Allt som Är
Move Through the Door to All-That-Is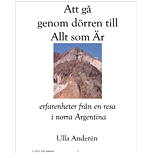 For more information about this book go to www.divineoneness.se
I dialog med ljuset
In Dialog With the Light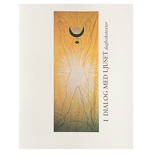 For more information about this book go to www.divineoneness.se